We developed First-Mover because we identified a significant need for a product with its unique properties. Since its launch, there has been considerable interest in the product, resulting in numerous success stories, growing installed base and positive feedback from our customers. First-Mover is fully patented and is in full production.
First-Mover enables handling of tasks that typically pose a high security risk to personnel performing the tasks
First-Mover enables handling of tasks that typically pose a high security risk to personnel performing the tasks
Since 2019, we solely focused on the rescue part. In 2021, we realized the growing number of electric vehicles and the need to be able to rescue them quickly, safely, and efficiently to secure areas for firefighting and further actions. 
We developed the First-Mover, which has been patented and proven to be the best choice for many applications, verified by customers in different countries and industries. In BS Engineering, we have now specialized in developing and building equipment for the First-Mover's
What to Expect from
a First-Mover on site
The First-Mover can handle damaged vehicles on highways, including those cars that are not completely totaled.
Fire Hazardous Situations
The First-Mover is a specialized vehicle equipped to quickly and effectively handle cars that are on fire or producing dangerous smoke.
Parking Garage & Tight Spaces
The First-Mover is capable of handling cars that are parked in hard-to-reach areas, effortlessly moving them around and performing tasks such as rescuing and rearranging cars within parking garages.
We have been First-Mover's Since 2004
Brian Sørensen started his own business in 2004 with a background as a truck mechanic and a great passion for electrical and mechanical engineering. Over the years, he built a company with 10 employees that serviced and built industrial machinery, ranging from large excavators to hospital equipment. After a few years, the business became more focused on the towing and rescue area, where we built and developed fire trucks and ambulances for companies such as Falck.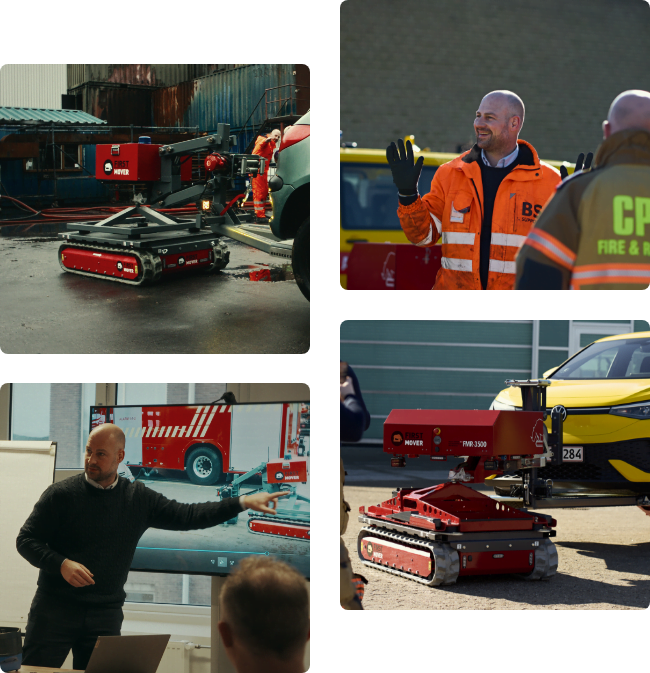 The First-Mover lifts up to 3.500 kg with ease, and can quickly move cars out of tough situations.
We operate in all continents around the world
The First-Mover is fully remote-controlled. All functions can be operated by a person up to 100 meters away."
Both FME and FMR can drive on up to 18 degrees incline, and the vehicle can lift 700mm from the road surface."